DEAR READER;
THANK YOU FOR FOR VISITING THIS PAGE OF MY WEB SITE. PLEASE FEEL FREE TO EXPLORE THE MANY PAGES WHICH ARE LISTED IN THE LEFT HAND COLUMN OF THIS PAGE.
THIS WEBSITE IS A TREASURE TROVE OF INFORMATION ON VARIOUS SUBJECTS, WITHTHE MAIN EMPHASIS BEING ON THE WILD PLANTS OF NORTH AMERICA AND SPECIAL FOCUS ON GINSENG
SOME OF THE LINKS HAVE BEEN PASS-WORDED FOR MY PERSONAL USE, BUT PLEASE DO NOT LET THIS DISCOURAGE YOU FROM EXPLORING THE REST.
PLEASE BOOKMARK THIS PAGE NOW LEST YOU FORGET, AND CAN'T FIND IT AGAIN (LKE ME)!

BEST REGARDS ALWAYS, FRED GATES




SALE OF BARGAIN AMERICAN GINSENG SEEDS HERE NOW !
FREE SHIPPING!
Get your order in now
Special Price Of $75.00 per pound with free shipping!
SALE OF GENUINE AMERICAN PANAX
QUINQIFOLIUM GINSENG SEEDS WHICH WILL SPROUT
IN THE SPRING OF 2023
The sooner you plant in the year, the lesser the
mortality of the seeds!
SUPERIOR
HARDY WILD GROWN
NORTHERN
APPALACHIAN
AMERICAN GINSENG
SEEDS (PANAX
QUINQUIFOLIUM)
AT ROCK BOTTOM
WHOLESALE
PRICES
by the
POUND or OUNCE
Bargain Ginseng Seeds To Grow WILD Roots!
You Can Plant all Spring, Summer and Fall!

These seeds have been striated, or stratified, from last year's harvest through the winter. Striation is merely a method used by seed growers to facilitate handling. The seeds naturally germinate over a period from 18 to 20 months long, and would whether they were stored in striation beds or not..
By planting them now, you will be returning them to the soil in which they will gain added nutrients and develop immunities to the other potentially hostile species in the area you plant, as they continue to germinate all thru this coming Summer and Fall. The sooner in the year you plant, the more the seeds will be exposed to the beneficial effect of being in their natural environment, and the more seeds you can plant thruout the Summer and Fall.
Fall planting is practiced by the cultivated root growers mainly to make best use of their fields. Some people have the mistaken notion that this is the only time to plant. The fact of the matter is, the sooner the seeds are planted, the more they become immune to other species and established in their home, and the better their chances of surviving when they begin to sprout. Wild seeds are never striated, but drop from the plant and either grow where they fall off are transported by birds and small animals and dropped by them before they can be consumed.
Ginseng seeds require up to 18 months to germinate because they need to be in the soil and build up immunities to their inherent diseases.
Seeds can be planted all Spring and Summer and Fall, and if care is taken, can be kept over the second winter and planted as they begin to sprout in the second Spring of their existence.
Be sure and read all the articles and information on this web site for full information and
instructions on how to plant and grow your seeds in the ways best suited for your desires or situation.
The seeds which are offered here are taken from their striation bed as they are sold so you are sure of getting the very freshest seeds possible.
The sooner they are planted, the better their chances of meeting your expectations..
I give my customers online support and advice according to my own knowledge and experience for as long as it is needed. Please remember that I don't know everything there is to know about ginseng, but I do know quite a bit.
The seeds sold here can be returned at any time within 14 days of the day you receive them for a full refund of your purchase price.
These partially germinated SEEDS can be planted on thru the summer and fall and will sprout next Spring.

WHY NOT BUY YOUR HARDY WILD GROWN NORTHERN GINSENG SEEDS RIGHT HERE FROM MR WILD SPIRIT GINSENG AND BE ON YOUR WAY TO GROWING ROOTS LIKE THESE?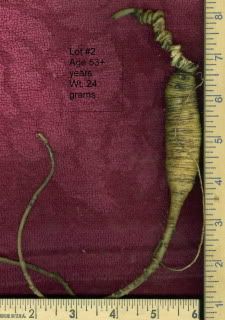 THESE SEEDS ARE IDEALLY SUITED TO RESIST DISEASE AND ADVERSE SOIL AND WEATHER CONDITIONS AND PRODUCE PLANTS LIKE THOSE PICTURED ABOVE WHICH WILL THRIVE IN A TOTALLY WILD ENVIRONMENT.

NOW IS THE TIME
TO PLANT THESE PARTIALLY GERMINATED
SEEDS ON SALE NOW AT THESE LOW, LOW EVERY DAY LOW PRICES!..........................................


These partially germinated SEEDS can be planted on thru the summer and fall and will sprout IN THE SPRING OF next year (2019).
ATTENTION;
$17.00 per ounce, $35.00 per quarter pound, $50.00 per half pound, $85.00 per pound.
FREE SHIPPING PRICES
For mail orders Please send check or money order with your shipping address TO
Fred Gates
3938 Remount Road
Front Royal, VA 22630
Email FredRGates@aol.com Telephone 1-540-324-4444
I HAVE A LIMITED QUANTITY OF SEEDS AVAILABLE FOR THIS COMING SEASON, SO GET THEM NOW AT THESE BARGAIN PRICES!
Be sure and bookmark this page NOW,
before you forget like I sometimes do
Customer prices;
FREE SHIPPING!
$17.00 per ounce, $35.00 per quarter pound, $50.00 per half pound, $75.00 per pound Make payment in cash, check or money order to;
Fred Gates
3938 Remount Rd
Front Royal, VA 22630


Free counters provided by Vendio.

Thank you for visiting!
Your Lucky Number 134418